nzywf 2020 live streamed events
Festival Opening: Now We Are Six & 24 Hour Flash Fiction Competition Launch /nzywf 2020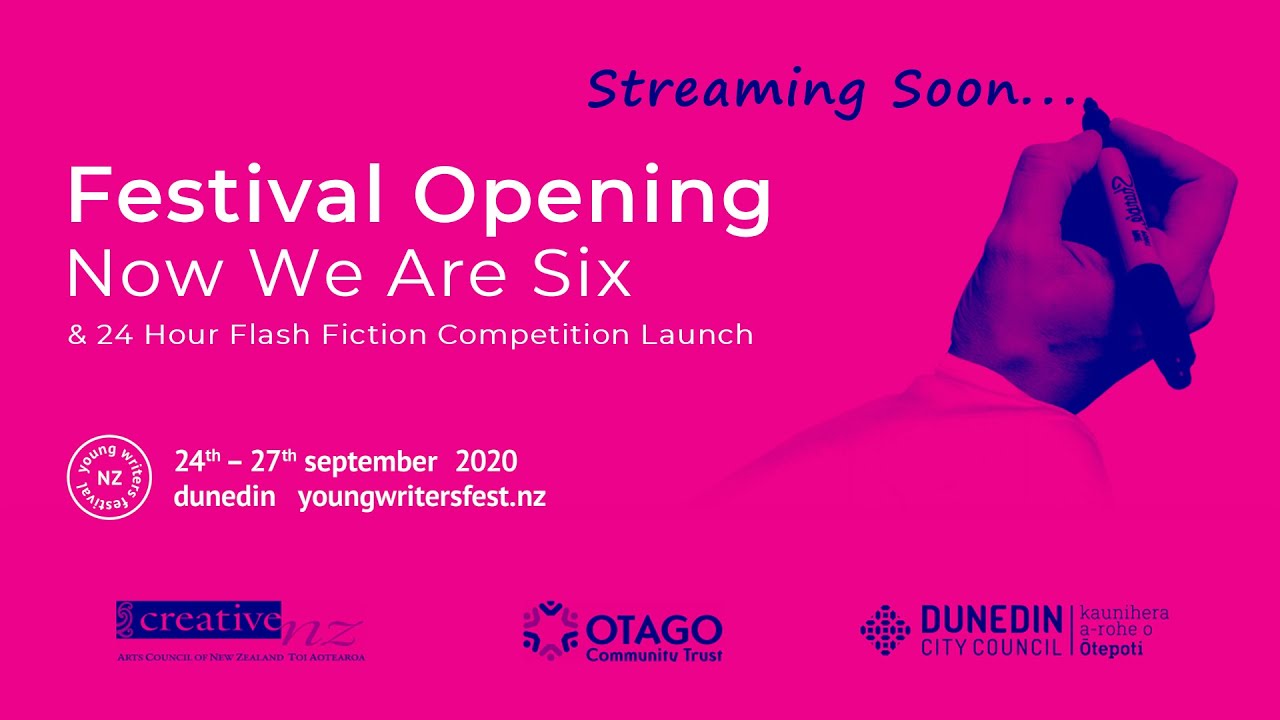 Come crack the champagne over the proverbial boat with us in the way we have become accustomed. Bevvies, brou- haha and a selection of snacks both performative and culinary. Your hilarious host for the evening is poet Freya Daly Sadgrove.
We launch of the 24 hr Flash Fiction Competition!
Start your writing engines! The countdown begins with the release of a writing prompt that must shape your story. The prompt will be given in person during the Festival Opening event, and on our website and Facebook page. Competition is open to writers aged 15-35 anywhere in NZ. Refer to website for competition entries, rules, and prizes.
thu 24th Sep 2020, Writers Block, Ōtepoti
Fern Fronds On Fire: Climate Poetry /nzywf 2020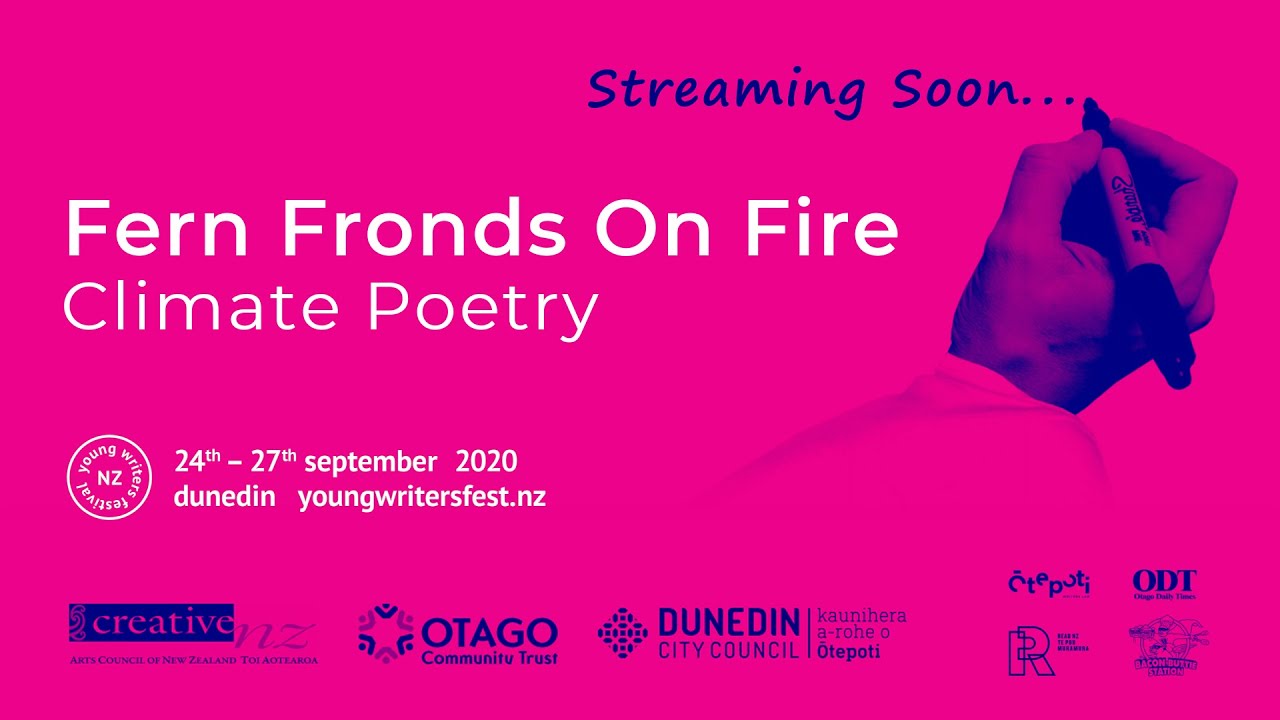 Climate change is crucial to how we imagine our futures and make choices. Three editors of an upcoming climate poetry anthology will explore how climate concerns arise in creative work, alongside local writers. Join Rebecca Hawkes (NZYWF Writer in Residence), essa may ranapiri, Jordan Hamel and guests for discussion and readings of climate-conscious poetry.
The NZYWF residency is made possible thanks to the support of the Robert Lord Cottage Trust.
Fri 25th Sep 2020, Writers Block, Ōtepoti
No Country For Young Playwrights /nzywf 2020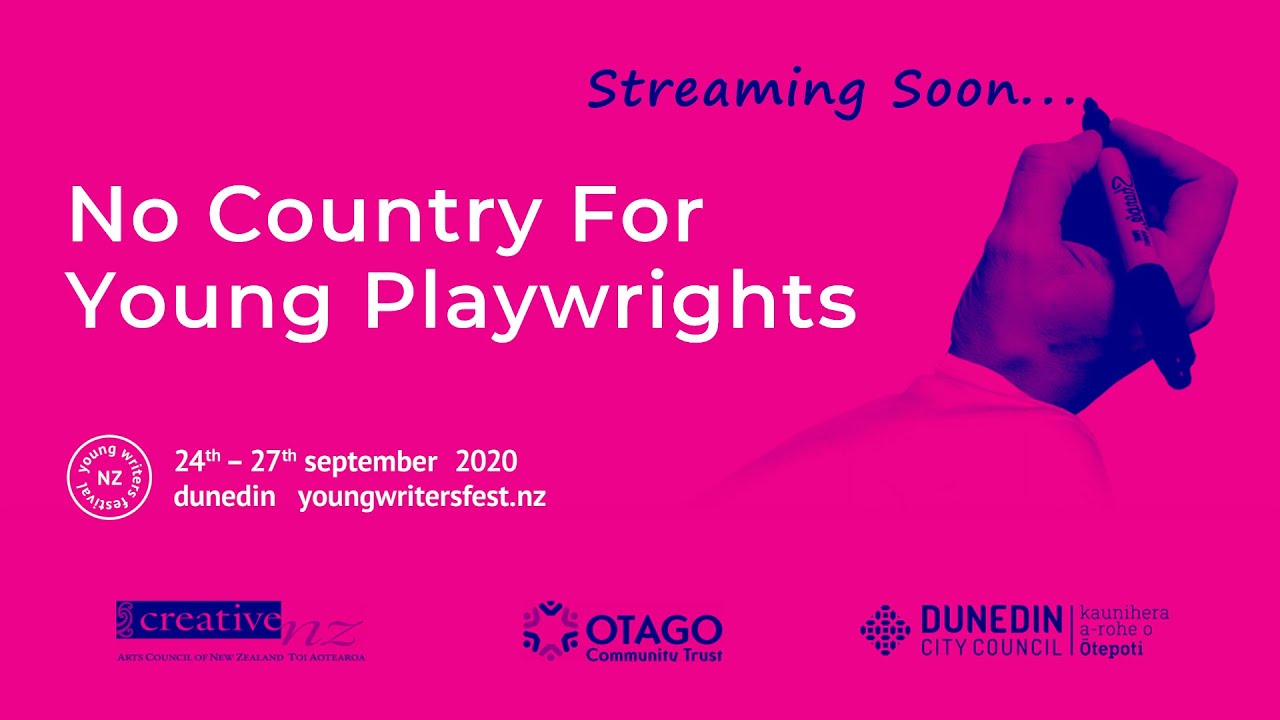 Being a playwright in Aotearoa means existing in a niche within an already tiny niche. What does it mean to live in a country that doesn't necessarily prioritise the arts? And what does a playwright even do? Join award- winning playwright Nathan Joe, along with some of the most exciting voices in the Aotearoa theatre world, as they swap stories, wounds and wonders.
Fri 25th Sep 2020, Writers Block, Ōtepoti
Don't Read The Comments: Navigating The Modern Media Landscape /nzywf 2020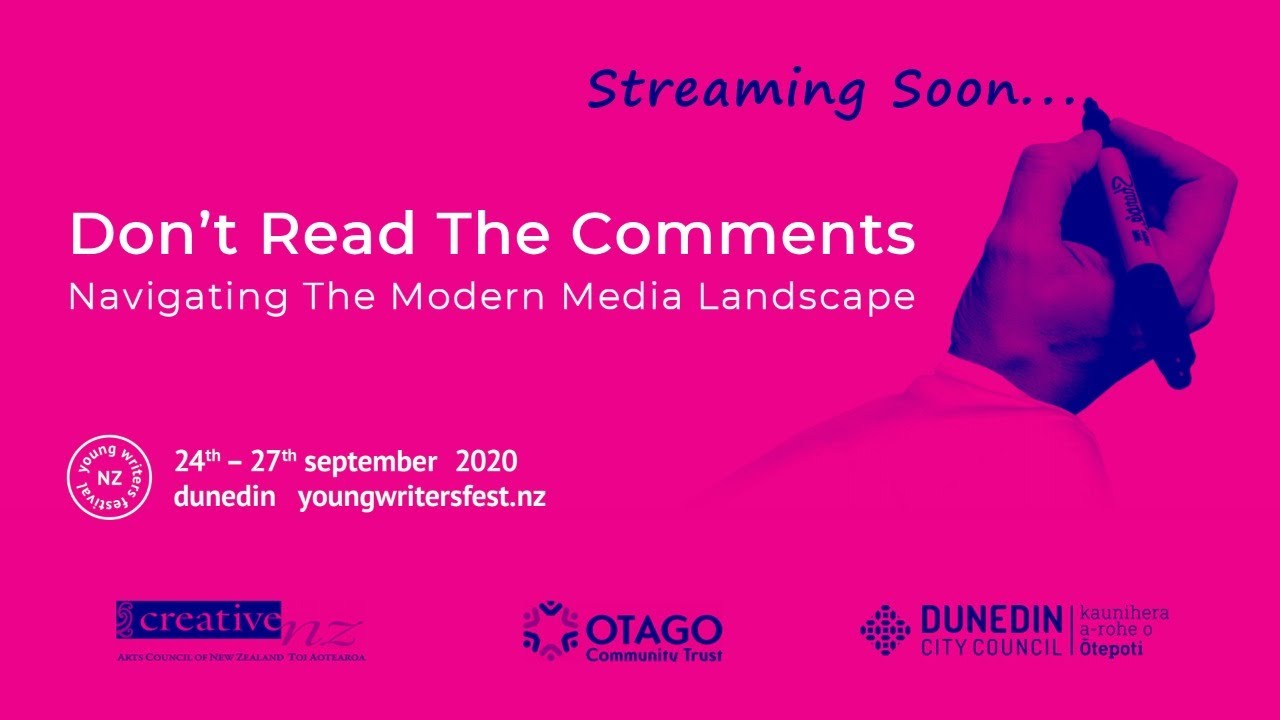 Playwright and culture editor for The Spinoff, Sam Brooks talks about working in the media in a modern age, using his experience of working across a range of publications, both online and print.
Fri 25th Sep 2020, Writers Block, Ōtepoti
Juvenalia: Visions From Our Youth /nzywf 2020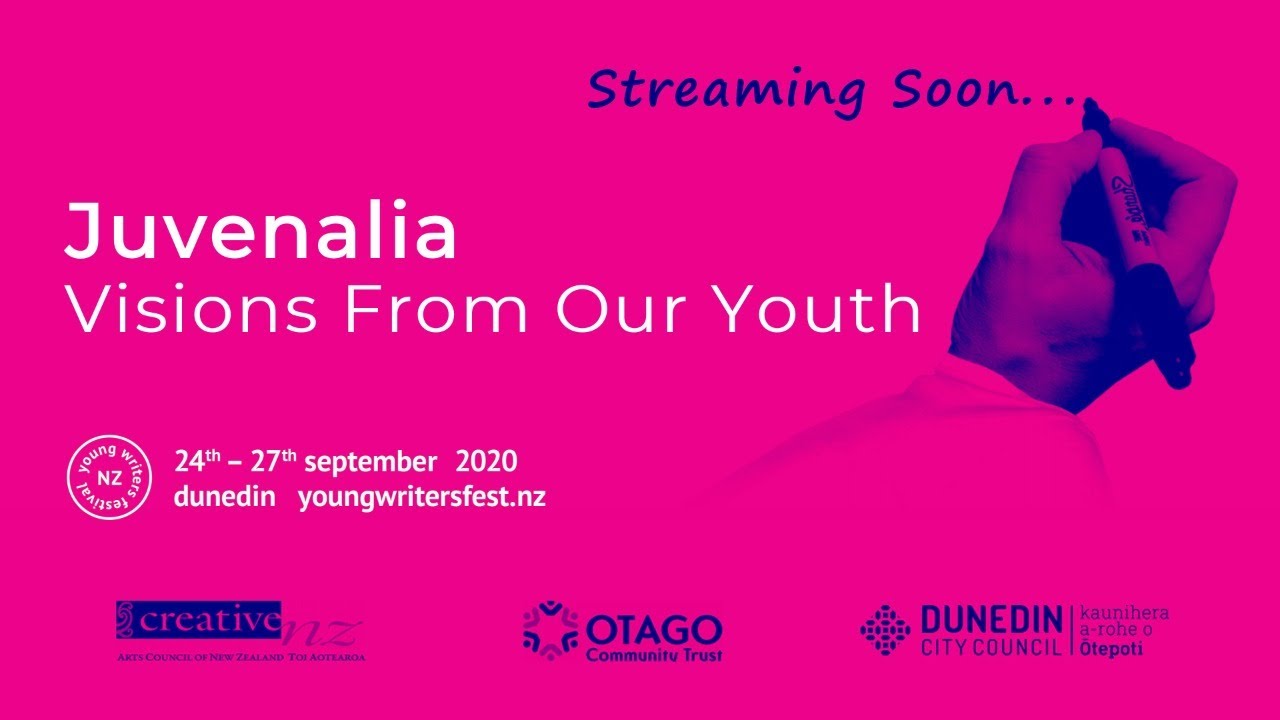 How well do you remember your childhood? How well could you remember someone else's? Come find out what all those weird monsters you drew as a kid really mean in this ekphrastic exploration of art and artist. Join Freya Daly Sadgrove and her esteemed guests as they lead you into the weeds of their childhood minds.
Fri 25th Sep 2020, Writers Block, Ōtepoti
Flesh And Bone /nzywf 2020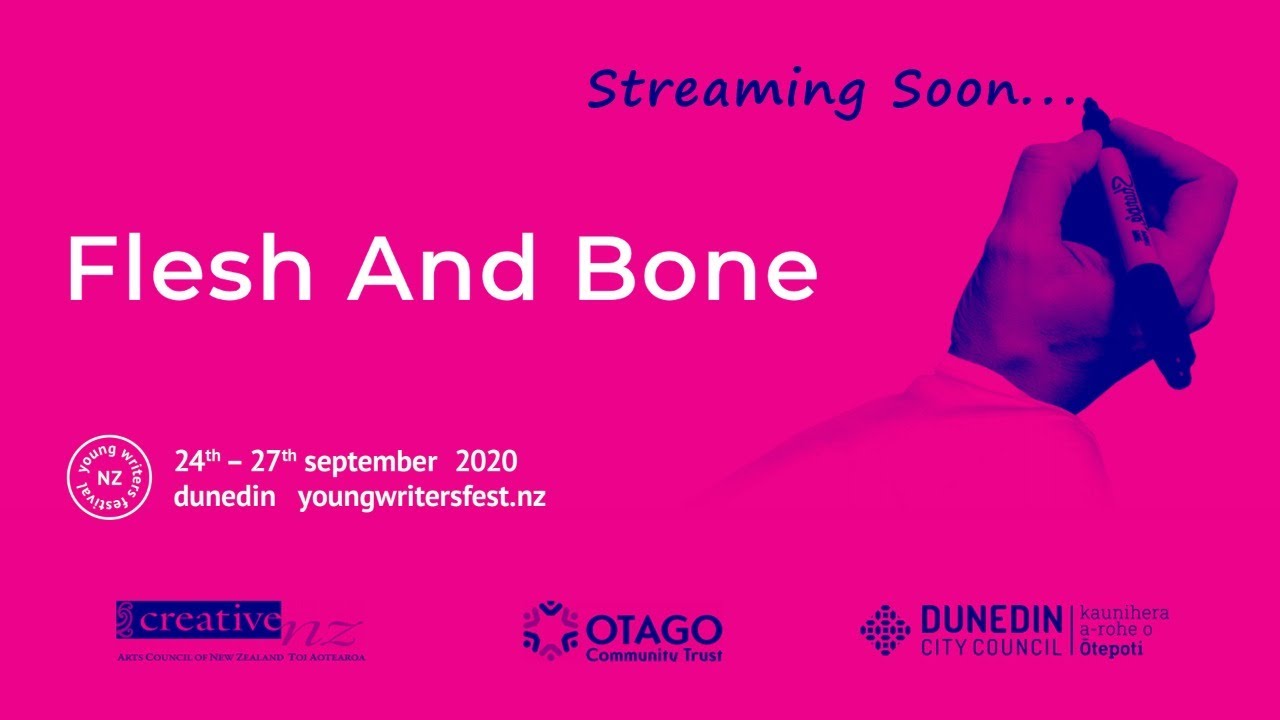 Readings from writers who whakapapa Pasifika and Māori curated by Faith Wilson and essa may ranapiri. Speaking to a sense of belonging hard won, how our homes are in our flesh and bone (like literally) and how cool that is. Our words are weapons, hear them cut and hear them sing!
Sat 26th Sep 2020, Writers Block, Ōtepoti
24 Hour Flash Fiction Festival Award Ceremony /nzywf 2020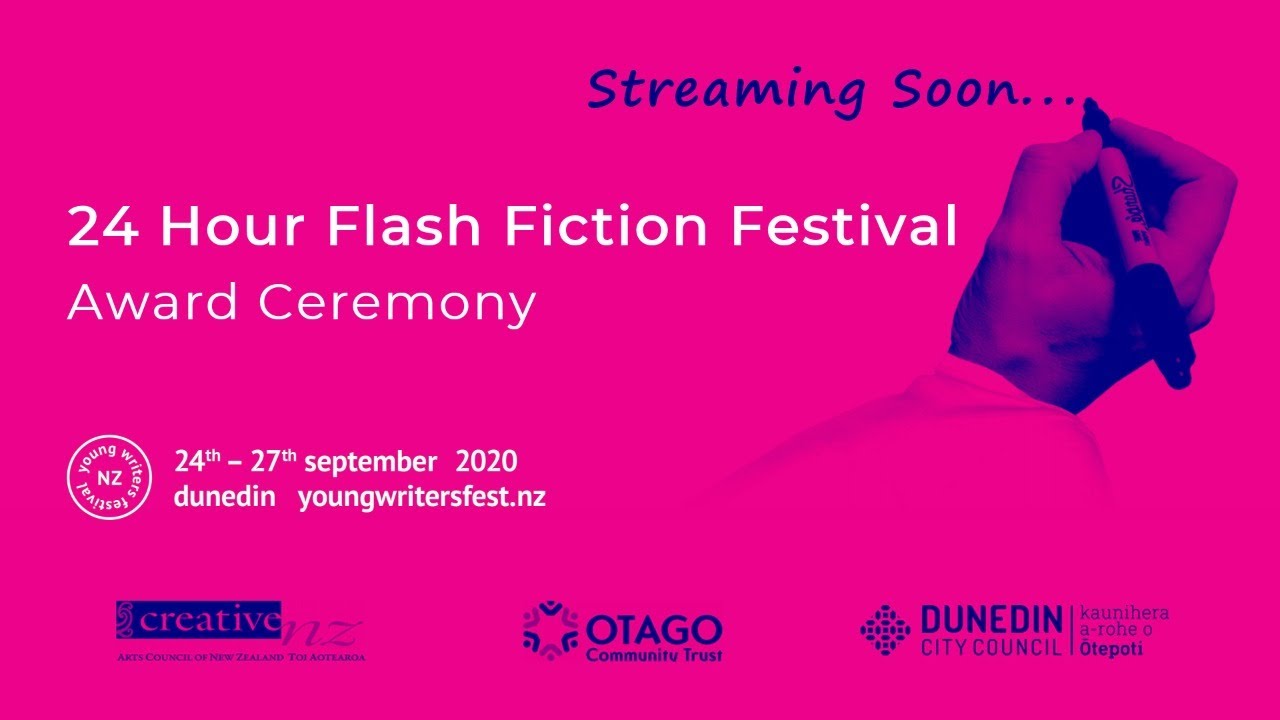 We close the 2020 Festival by announcing the winners of the flash fiction competition, as judged by Lola Elvy (National Flash Fiction Day Youth Competition organiser) and local poet Rushi Vyas. Selected entries and highlights will be read aloud.
Sun 27th Sep 2020, Writers Block, Ōtepoti